Mary Fleming, Broker
As a native of Pearl River County, Mary wanted to continue her husband's legacy in the Real Estate Business here. In December 2017, her husband James Fleming retired from over 40 years in the real estate business in Pearl River County. Mary was licensed as a Mississippi Real Estate Broker in 2012, and has had her Salesperson license in Mississippi since March 26, 1999. She has served as a member of the Pearl River County Board of Realtors Board of Directors, the Governmental Affairs MARPAC Committee, the Finance Committee, The Grievance Committee and the MLS Committee. She is a life time member of the Multi Million Dollar Club and continues to be a Multi Million Dollar Producer in Sales in Pearl River County. In January 2018, she became the Responsible Broker for Mississippi Land and Home Sales LLC. Not surprising, as she has come from a back ground of loving service to her community, her family, her church and the world.

Mary began her career in the late 1970's in the airline industry. From there she went into the travel industry as a travel agent, soon she became manager of one of the largest agencies in the state of Mississippi at the age of 22. By 1980, however she had to return home to Picayune due to illness of family. Late in 1980 Mary opened the first Travel Agency here in Picayune. It was her love of people, travel, and service that has kept her at the fore front of education, hard work and perseverance.

In 1988, Mary sold her travel agency and took her skills into a new opportunity, handling travel for the Navy with Sato. But in 1995 Mary and James began the adoption process that lead them to China.

They traveled the world, but now Mary stayed at home and cared for the daughter they were to meet in 1996. Always traveling, always studying, learning new things, Mary has always had a heart for people.

So as James began to slow down and their daughter was in college, Mary began to assemble a team of professionals who have integrity, honesty, fairness and are committed with high moral standards.

Mary and her team bring experience in Marketing, Public Relations, Business Planning, Education, Networking, Team Work and most of all Professionalism in general. The "Golden Rule" in the norm, rather than the exception.

When Mary is not busy in real estate, she enjoys MUSIC! Mary has played the piano since the age of 4. She has played the piano for the Spanish Congregation for Roseland Park Baptist Church and fills in as needed when called. She sings in the choir in church and attends concerts, plays, theatre both local and worldwide whenever possible. She and James still love to travel, but these days mostly close to home. Always interested in people, Mary loves teaching Sunday school at Roseland Park Baptist Church and loves attending local events. She loves to give…of her time…cooking and taking food to those in need and using her talents and gifts to help whenever and where ever there's a need!
Cell: (601) 798-3200
maryflem@bellsouth.net
Kristy Watkins, REALTOR
Kristy is a lifelong resident of Pearl River County. She graduated from Picayune Memorial High School and attended Pearl River Community College.

She is active in the community. Pearl River Central Touchdown Club member from 2010-2016 and on the board from 2013-2016. She is a member of Picayune Main Street.

Kristy co owned four convenient stores located in Picayune, Long Beach, and Bogalousa for over 18 years and sold them. She also built and sold homes from 1995-2006 which helps her to have a lot of experience in the real estate industry.

Her experience and knowledge helps to better serve her clients' needs whether it's for buying & selling real estate, investment properties, or commercial properties. Kristy has attended home staging classes and can help you with staging your home to sell.

She is a member of Gulfcoast MLS and the Pearl River County MLS.

Kristy is married to Danny Bryant, an 82nd Airborne Veteran, has 4 children and 2 granddaughters.

She will work hard for you and is very dedicated to her clients.
Cell: (601) 347-1657
kristybryant5@yahoo.com
Michael Babin, REALTOR
Mike Babin is a native of the Westbank of New Orleans, Louisiana. He moved to Mississippi in 2013. He is married to his wife Randi Babin, and he has two daughters, Mercedes and Bailey.

Mike is a real estate investor, and he likes to flip houses in despair. He is very dedicated and hard working. Whether it is selling property, or finding your forever home, Mike is ready to help!
Cell: (504) 453-3162
Martha Mercado, REALTOR
Martha is originally from Honduras and fluent in Spanish. She grew up in Kenner, LA. and has been a resident of Pearl River County since 2002 along with her husband Marvin where they finished raising their three children. Martha has a Bachelor's degree in Secondary Education from the University of New Orleans. After a long career in education, she became a real estate agent in 2014.
In the last five years, Martha has used her extensive people skills to work with clients with a wide variety of real estate needs. She has represented both sellers and buyers in many types of transactions including listing and selling luxury homes, rental properties, vacation properties and land..
Cell: (601) 347-9578
mmercado87@yahoo.com
John Sita, REALTOR
John Sita grew up on the New Orleans Westbank. John and his wife Janis moved to Picayune in 2018 after he retired from the State of Louisiana. John graduated from LSU with a business degree and played clarinet in the LSU Tiger Band. John is a deacon at Picayune First Baptist church and teaches Sunday School. He also plays clarinet in the Pearl River County Community Band of which he also serves as treasurer. John is also a Gideon and serves as the treasurer of the local camp as well.
John will work hard to meet the needs of his clients and is a member of the Pearl River County MLS.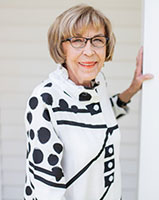 June Crider, Office Assistant
Although June was born in New Orleans, she has lived in Picayune her whole life. She is a widow, and a mother of two deceased children.

June worked at Walmart, and retired from there after 19 years. She also worked for Pearl River County for 10 years. She is a member of Roseland Park Baptist Church.

June is great help to our agents here at MS Land and Home Sales, and we are thankful for all she does!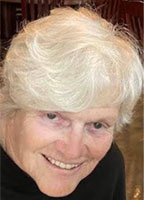 Connie Jerdee, Social Media Director
Connie Jerdee is currently serving as Social Media Director for us. She recently moved back to Mississippi. She raised her son and lived in Pearl River County for 34 years previously.
Connie is also an accomplished artist and loves fishing.
(361) 229-3077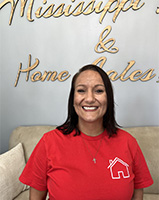 Kaitlin Andrews
Kaitlin is a native of Picayune, mother of 8 year old twins. She is new to the workforce but brings many years of experience in handling chaos and management. She is hard working and is a quick learner and is currently in training for the management/bookkeeping position. She lives in Poplarville with her two children and attends Resurrection Life.
(601) 798-3200